Planisware is the #1 Champion in the Project Portfolio Management Emotional Footprint Report by Info-Tech Research Group's SoftwareReviews, August 2023. From the report, "The Net Emotional Footprint measures high-level user sentiment. It aggregates emotional response ratings across twenty-five provocative questions, creating a powerful indicator of overall user feeling toward the vendor and product."
Planisware Enterprise achieved the top score overall. The report reveals that customers consider Planisware Enterprise to be an efficient, productive, and innovative solution and describes Planisware's business practices as reliable, caring, trustworthy and client-focused.
The report data collected comes from carefully researched feedback from 886 verified software users on 25 Customer Satisfaction (Emotional Footprint) attributes across five categories that include the customer service experience, conflict resolution, negotiation and contract, strategy and innovation, and product impact.
Planisware remains the #1 PPM vendor after a decade of market dominance. According to Info-Tech's report:
Image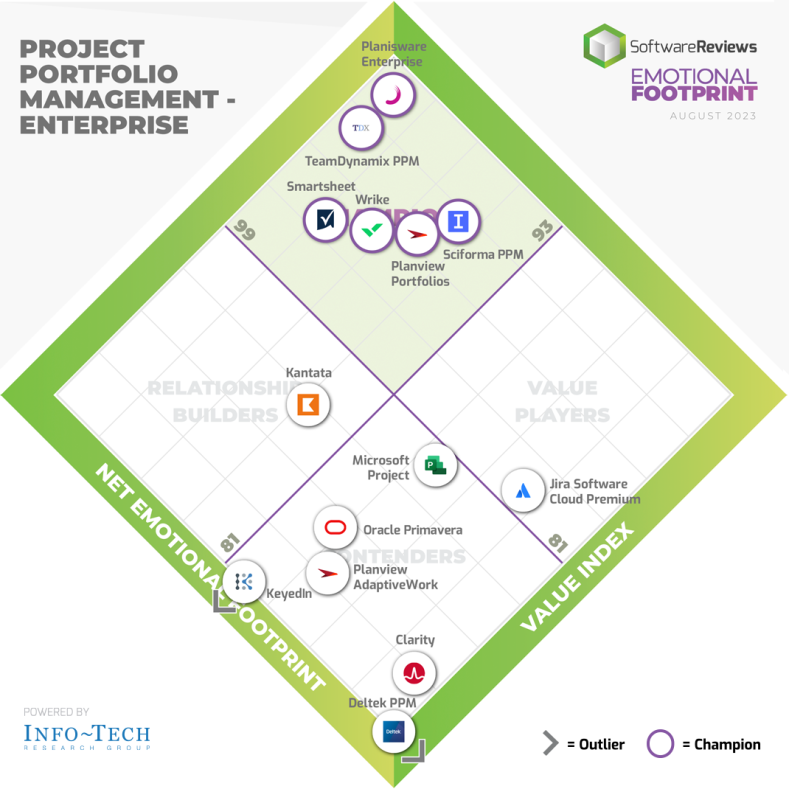 Planisware has solidified #1 in both net emotional footprint – overall user feeling toward the vendor and product - and value index axis – a metric that captures user satisfaction with their software given the costs paid to the vendor.

Planisware's CX score of 9.5/10 is the result of increased investments in both products and customer services, a metric that correlates with Planisware's customer retention rate of 98%.

Planisware achieved a perfect score in putting "client's interest first," "continually improving offering," and being "fair" in its partnerships with customers

 
Combined with its #1 position in Info-Tech's data quadrant, looking at the market through a more product-oriented lens, Planisware Enterprise is the natural PPM tool of choice for any organization wishing to maximize value from its portfolio assets.
Info-Tech's 2023 Project Portfolio Management (PPM) Emotional Footprint Report is intended as a buyer's guide that accelerates purchasing decisions for various software markets, highlighting vendor and product performance at a glance. Out of the 50 PPM solutions considered, only 19 of them made it to the Emotional Footprint Report based on user perspective, with Planisware ranked #1.
Info-Tech is an independent research and consulting firm in the enterprise software landscape and vendor relationships. SoftwareReviews provides comprehensive reports based on data from real end users, and IT professionals who have worked with it through procurement, implementation, and maintenance.